[In the photo: Hannah is crying and praying. The artist is unknown. The image is in the public domain]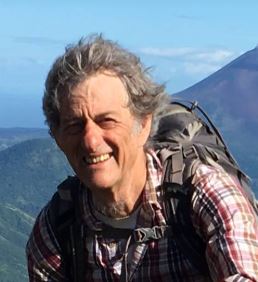 Rabbi Dr. Yossi Feintuch was born in Afula and holds a Ph.D. in American history from Emory University in Atlanta. He taught American history at Ben-Gurion University.
Author of the book US Policy on Jerusalem.
He now serves as rabbi at the Jewish Center in central Oregon.
*  *  *
Commentaries suggest that it was Hannah's idea that Elkanah, her ''man'' (not ''husband'') should take another wife for progeny, for she could not conceive a child.
Though she gave birth to several children P'ninah -- Hannah's co-wife -- taunted her for Hannah remained Elkanah's beloved. P'ninah's taunting is reminiscent of Hagar, who upon her quickly-becoming-pregnant exhibited an arrogant attitude towards Sara, her mistress, at whose demand Abraham took Hagar as a wife for progeny.
[In the photo: Ali and Hannah (Hannah's prayer) ... The rights holder in this photo was not located. Therefore, the use is made under section 27A of the Copyright Law. The main rights holder, please contact: yehezkeally@gmail.com]
It is a fact of life that there are people who mock vulnerable persons or those with disabilities; not only did Hannah have to deal with not having a child, especially because she believed that God closed her womb; Hannah had to deal on top of that with P'ninah's verbal insults to which she would not respond, most likely for not seeing the point of doing so. (Mark Twain said apropos: ''Never argue with a fool, onlookers may not be able to tell the difference.'' Perhaps he was thinking of Hannah who chose not to respond to P'ninah's provocations.)  Despite these insults, Hannah did not run complaining to Elkanah, like Sara did in griping angrily to Abraham about Hagar's condescending demeanor towards her.
Hannah goes to the Shilo Sanctuary despite the difficulty of exposing herself there to P'ninah's verbal barbs.    This time she is determined to bring her petition as close as possible to God's presence. She determined a proper petitionary prayer (essentially a whisper), pronouncing every syllable distinctly, all of whom imbued with a great concentration and meaning (kavanah).
When Eli, the High Priest, mistakenly admonishes her for PUI – praying under the influence: ''How long wilt thou be drunken? Put away thy wine from thee'', Hannah hastens to defend her good name, (rather than being too humble to do so, for Eli, unlike P'ninah, is not a fool). Hannah says to him that she drank no wine or strong drink, as " a daughter of Belial" does (a wanton person who shuns the word of God; Eli's two sons were described as such).
[Bible Paintings, Hannah's Prayer; Painted by: Ahuva Klein. Presented with the author's permission]
Rather, she just had a sorrowful spirit. Having misjudged her, Hannah – so the Talmud – rebukes Eli saying that despite his status "You have no authority in this matter, and the Holy Spirit dwells not on you, when you suspect me on this account" (B'rachot 31:2).
After Hannah's petitionary prayer in which she vowed -- if her wish came true -- to ''dedicate my child to the Eternal for a lifelong service'', and the ensuing warm supportive blessing from the repentant High Priest, ''no longer was she troubled''.
To be sure, Hannah did not know what the outcome of her visit to the Shilo Sanctuary would be, but she gained there a peace of mind; gone away were the pain and anguish.  It was as though Hannah said to herself: ''I did everything that I could do.  And while I still continue to pray in my heart, yet, I am at peace.''
And being at peace meant for her that P'ninah is not mentioned again in her life story, either because upon seeing Hannah's new mien P'ninah ceased her taunting, or because Hannah paid no heed to it. Elinor Roosevelt might, one day many years later, be inspired by Hannah's giving no space in her thoughts to P'ninah, when she said: "No one could really hurt your feelings without your permission''.  Or, in a nutshell, why should you care about what others think of you?
Unlike Abraham, though, who did not tell Sara about his decision to offer Isaac for a burnt offering to God, knowing that Sarah would not allow him to do that, Elkanah does not try to nullify Hannah's vow, though he was permitted to do so by Torah within 24 hours after the vow was made.
[Unlike Abraham, though, who did not tell Sara about his decision to offer Isaac for a burnt offering to God, knowing that Sarah would not allow him to do that, Elkanah does not try to nullify Hannah's vow, though he was permitted to do so by Torah within 24 hours after the vow was made. Bible Paintings / Binding of Isaac / Painting: Ahuva Klein (c)].
Au contraire, Elkanah himself accompanies Hannah and their son Sh'muel to the Shilo Sanctuary, after she weaned him at 22-24 months-young, as Rashi opines.  More likely though anytime between 3-5 year-old would be more compatible with the common time for weaning in biblical times.
To be sure, Hannah did not mention in her vow any specific age by which she would dedicate her child, if she had one, to the Sanctuary.  Still, irrespective of Samuel's age it is clear that Hannah did not only keep her vow, but did so as her son was a mere toddler; Hannah didn't waver. She didn't run away and tell God that it was too difficult to let go of her son.  In the words of the psalmist: ''Lord, who may dwell in your sacred tent?'', the one ''who keeps an oath even when it hurts'' .
She thus lived up to the Abraham's precedent when he took Isaac to be sacrificed early morning after God commanded him to.  Hence, the Talmudic teaches that piety in performing a mitzvah is measured by how early in the day it was done.
Is there any wonder, then, why Hannah — a prophetess  — is considered to be one of the most noble Hebrews that ever lived?