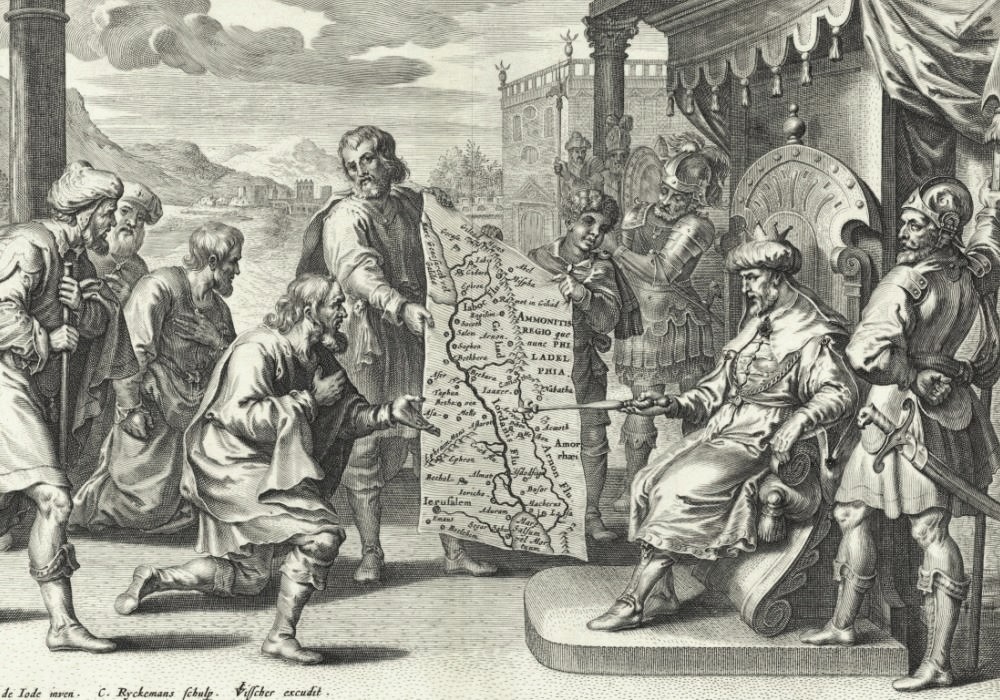 [In the picture: Yeftah and the king of Ammon. Why did Israel treat Ammon better than Moab? Image is public domain]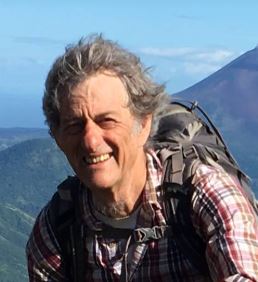 Rabbi Dr. Yossi Feintuch was born in Afula and holds a Ph.D. in American history from Emory University in Atlanta. He taught American history at Ben-Gurion University.
Author of the book US Policy on Jerusalem (JCCO).
He now serves as rabbi at the Jewish Center in central Oregon. (JCCO).
*  *  *
In this weekly Torah portion of D'varim we come across a subtle, yet a significant difference between how God expected the Israelites to approach and comport themselves vis-à-vis both the Moabites and the Ammonites en route to the Promised Land that lies evidently west of the Jordan River. Lot was the progenitor of these two nations that issued from his incestuous impregnation of his two daughters following the devastation of Sodom and Gomorrah. Both daughters believed that the human race would end without their proactive initiatives to procure seed, even from their own father after they intoxicated him twice, and in the belief that no other man survived the inferno that decimated their twin cities, which for them meant the whole world.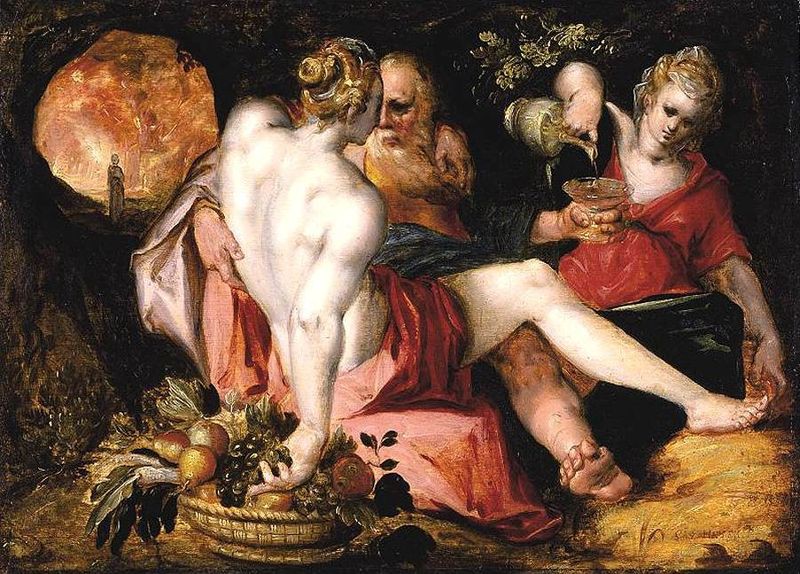 [In the photo: a painting of Lot with his daughters by Jan Hermanetz. Müller in 1600. The image is in the public domain]
Both nations are to be treated leniently, notwithstanding the earlier hostile efforts of King Balak of Moab to hire Balaam and curse the Israelites. Yet, the remembrance of Lot, Abraham's kin, was a decisive factor in dealing mildly with Moab.  Israel, therefore, must not ''harass Moav'' by laying a siege on it, or initiate any militarily aggressive action against it.
[In the picture: Ehud ben Gera kills Eglon, king of Moab. Image is public domain]
When it comes to the Ammonites, the Israelites were to avoid any type of provocation, that impliedly might be done with Moab, as long as it was short of waging a war.   The Ammonites were simply to be left alone and be spared from any Israelite actions that might discomfit them.
The Talmudic Rabbi Khiyah Bar Abba, citing Rabbi Yochanan, explains the difference between both deportments by teaching that God ''does not deprive any creature of any reward due to it'' (Baba Kama 38b). Namely, Lot's eldest daughter by naming her son ''Moav'' identified, in effect, her father as her son's father too -- ''Moav'' meaning ''from father'' (meh-'av). Many years later, so Rabbi Khiyah, the nation of Moab might be subjected to some inconveniences, while the Israelite crossed Moabite land, and availed themselves to food and water, even if through coerced trading. This being the result of Lot's eldest daughter's insensitivity, if not indifference, towards her father's dignity by effectively identifying him as the father of her son, Moav.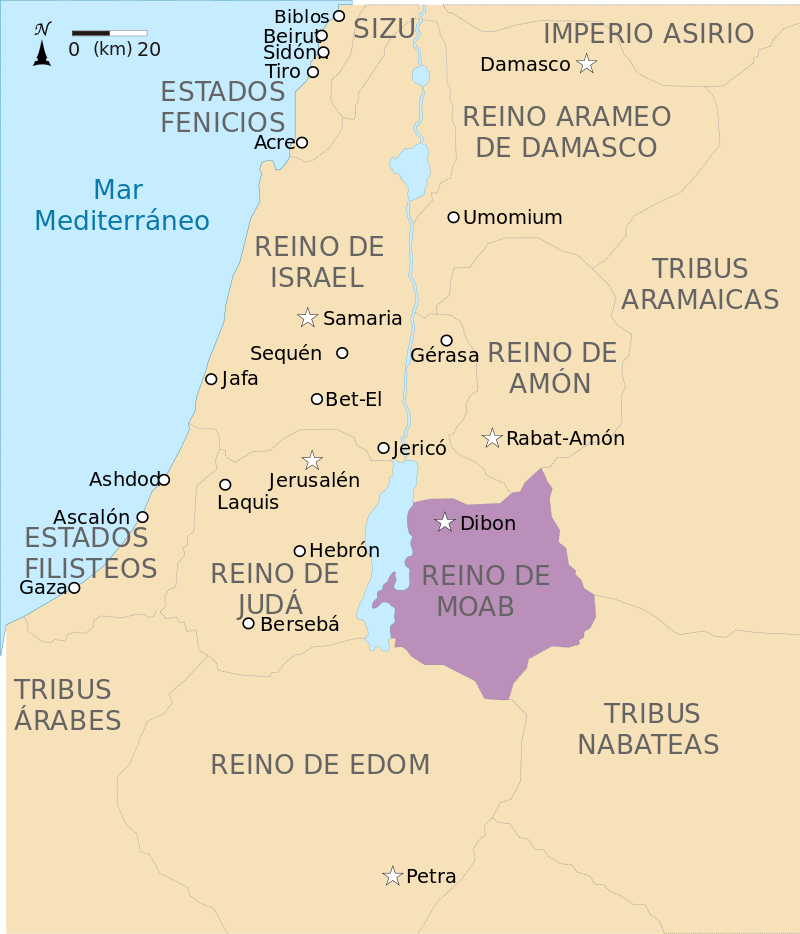 [In the picture: Moab and its borders according to the Bible. The image was created and uploaded to Wikipedia by Qoan. This file is licensed under the Creative Commons Redistribution License, version: CC BY-SA 3.0]
Amon, a sister nation next door to Moav, through whose territory the Israelites were poised to cross as well, were to suffer no pestering or nuisance at all in tribute for Lot's younger daughter's tactful regard to her father's honor; rather than identify her father as her baby's father, she named him Ben Ami – ''the son of my people" (hence the nation of Amon). Consequently, and unlike her elder sister, she was rewarded for not brazenly identifying her son's paternity. The problem, then, for the Talmudic sage was not in the incestuous births of Moav and Ben Ami for he recognized the two daughters' motives.
For seeking, however, to hire Balaam and curse Israel, and for sending their maidens to seduce Israelite men into an orgy of pagan fornications, as Balaam must have advised the Moabite King to do in order to foil the Israelites, Moab deserved Israelite bellicosity and belligerence, the Lot kinship notwithstanding.  But God, according to Rabbi Khiyah, spared Moab from those as a reward for Lot's eldest daughter being the first to hasten and fulfil the Mitzvah of procreation, even in believing that her father was the only hope for human continuity.
[Bible paintings/ Balaam and Athono/ Artist: Ahuva Klein (c) oil on canvas]

,,